In the last few years, Instagram has grown to become a powerful tool for business. From simplifying content creation to providing businesses with useful tools, the social network has quickly become an avenue for not only reaching new audiences and increasing brand awareness with hashtags, ads, and mentions, but also for creating a new way to make online sales. This is all thanks to how easy it is to engage with customers, showcase your products/services and promote your brand in a way that clients actually want to make business with you over and over. It sounds too good to be true, doesn't it?
Why create an Instagram page for your business
Before jumping into a step-by-step guide, let's think for a minute: is it really necessary to create an Instagram page for your business? If you are asking yourself this question there you really need our help. It's obvious you need this page: it is one of the easiest ways to promote your business, it comes with great business tools and it is a crucial part of a digital marketing strategy. Here are two basic but important features of an Instagram business account, so you can see what we mean:
a. CTA button

Call-to-action (CTA) buttons on an Instagram profile are buttons that potential customers can click on to get a specific action in return. "Call", "email" and "book an appointment" are all examples of CTA buttons that a business account lets you add to your business profile. Once a potential customer clicks on them, they'll be redirected to your phone number, email address, or calendar, respectively, which gets them one step closer to buying your products or booking your services.
b. Post scheduling
The post-scheduling feature is very helpful for businesses. If you already have a regular account you use for business, this feature alone is enough reason to switch to a business account. For businesses that plan content ahead of time, the post-scheduling feature allows you to schedule your content by selecting a specific time at which to make it live. This means you can, for example, have the content of an entire month ready to launch and simply schedule different days to upload each post. The post-scheduling feature will do the rest for you: it will upload each post on the exact day and time you had previously selected, you only have to set it up once and the feature will adhere to your schedule for as long as you set it up for. This will help you be more productive and focus on other things.
Has this amazing feature convinced you yet? If so, let's jump into an important aspect first: choosing your username

Choosing a username and checking for its availability
With 1.440 billion users on Instagram as of July 2022, it becomes a bit difficult to get your desired Instagram username unless it is something very specific. Understanding this before setting out to create your account is important as it will not only save you time but also the disappointment that comes with Instagram's message: "username not available."

We recommend using a tool like InstaUsername to check the availability of your desired name before you proceed to create the account. If a name is unavailable, you have enough time to brainstorm new ones and check their availability. If you already have an established brand, try to use the same name as an Instagram username so that potential customers can find you. If it is unavailable, slightly altering your brand name might work.
Now that you know the basics of why an Instagram business page can be a game changer for your brand, let's not waste any more time and jump right into the step-by-step guide so you can start creating one.

Create your Instagram business page in 5 easy steps
There are many ways branding differs from marketing. Here are the main ones;
1. Install the Instagram app
First things first, you need the Instagram app to use the service. The Instagram app is ready for download in a few seconds from the Apple App store for iPhone users and Google Playstore for Android users. If you already have or use Instagram then you don't need to redownload it, you are one step ahead, great job.
2. Create a new account for your business
When you launch the Instagram app, you will be asked to sign in with Facebook. We encourage you to opt for creating a fresh account instead, as you are trying to get your business and not yourself an account. You do not want to get your personal posts mixed with business posts, which is why we do not encourage simply switching your existing Instagram account into a business profile. It is best to create a new account with your desired business username. We also recommend you use a business email.
3. Switch to a Business Account
Instagram creates every new account the same way, whether it is a personal or a business one. After the creation of your new account, you need to switch to a business account to have access to all the tools and features made specifically for businesses. Switching to a business account can be done in a few simple steps.
Go to your profile, click the hamburger menu,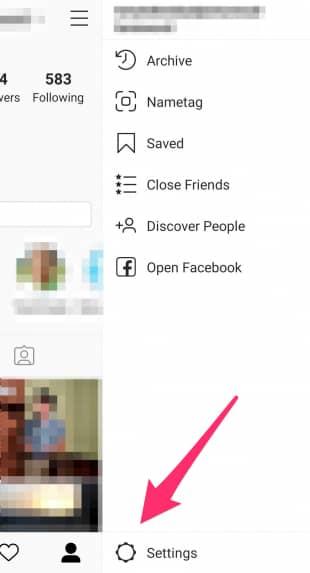 Click on settings, and then click on account.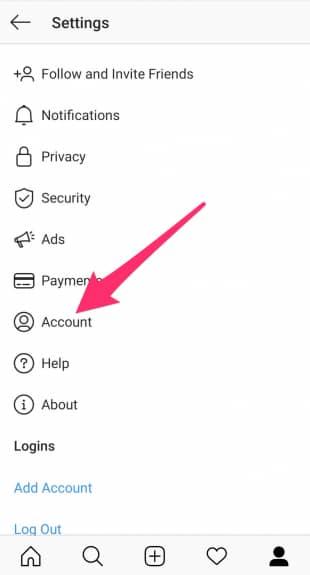 In the account page displayed, click on "Switch to a Professional Account."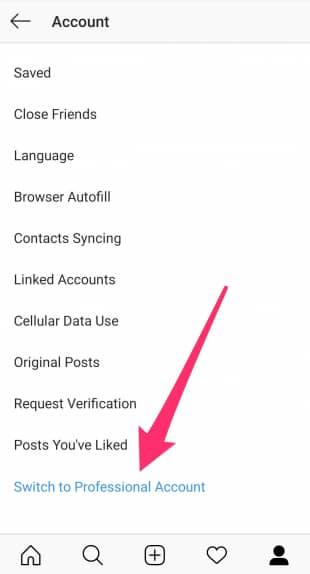 After this, you will get the option to choose between 'Creator' and 'Business.' Click on 'Business' and you're done. Wasn't that easy?
4. Setting up your profile
Congratulations, at this point you should have your business account. However, setting up your account is just as important as creating it. First, start with the right profile picture. As a business, this should use a recognizable brand asset such as your logo. Now, finish setting up your business profile by adding a bio in which you briefly describe what your business entails or what type of services you offer, the shorter the better because you only have a few characters available for this. So keep things simple and to the point, while also being friendly in order to attract potential customers. We recommend you also add your contact information, website URL, and business hours. For example, if you are a restaurant owner, your bio should say what type of food you offer, your location, and business hours. Simple but effective, trust us.
5. Integrate with your Facebook Business Page.
The power of Instagram for business is incomplete without a Facebook integration. At this point, you will need to link your Facebook Business Page with your Instagram Business Page. This integration unlocks some of Instagram's business tools. It also lets you use the Meta Ads Manager to run Instagram ads during social campaigns.
Linking your Facebook Business Page to its Instagram counterpart is easy. Simply visit your profile, click on the hamburger menu, then "Settings" and "Business." In the new list of options displayed on your screen, click on "Connect a Facebook Page."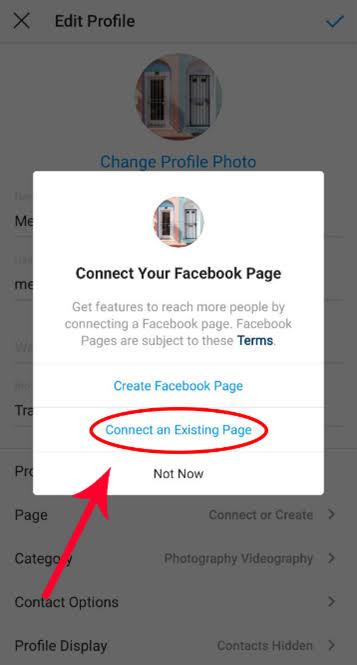 To complete the process, you will either need to be logged in on Facebook or you'll have to log in at this point. Nevertheless, ensure you are linking your Instagram Business Page with the right Facebook Business Page.
Got an Instagram Business Page. Now What?
Building a solid Instagram Business page is essential for a well-rounded digital marketing strategy. From the creation of unique and engaging content that facilitates organic rankings within the app, to running Instagram Ads as part of your social media campaign, your new Instagram business page holds within it a lot of potential. We have created this easy guide because we know you are an expert in your field, and you should be able to grow your business using the online tools we all have available.
However, as a top digital marketing agency, we are also experts in our field. We believe you shouldn't have to waste too much time learning how to effectively market your business online, you have a whole business to run! Your time is valuable, so let us give you a hand. From Google Ads, to Facebook Ads, and even Instagram Ads, we at Nomadic Advertising are a team of digital marketing experts ready to help your business get seen and grow. And if after creating your Instagram Business Page you see the need for a website, we also have a web development service that beats your expectations. We have experience working with several industries, and chances are we are familiar with yours.
Contact us today if creating a digital marketing strategy across all social media platforms that are tailor-made to your business, with proven results from our clients from several different industries, sounds like exactly what you were looking for. We will help you scale your business, reach a larger audience and build your brand's image, and that will only be the first few steps. You can also book a free 30-minute strategy session to see what we are all about, and exactly what we could do for your business.