At Nomadic Advertising, we pride ourselves on our ability to adapt and innovate in the ever-changing landscape of digital marketing. One of our recent success stories involves our work with Annex Dentistry, a leading dental practice based in Toronto, Ontario.
The Challenge
Annex Dentistry's website was outdated and lacked the modern appeal that today's patients expect. It was also not optimized for search engines, which meant it was not reaching its full potential in terms of visibility and patient acquisition. Furthermore, the dental industry requires content that is not only accurate but also compliant with Ontario's strict guidelines, which prohibit claims like being the "best" dentist.
Our Approach
Our first step was to redesign the website, giving it a fresh, modern look that resonates with today's patients. We added more content, focusing on relevant keywords to improve its ranking on Google Search.
Next, we dove into website optimization. We reviewed Google Search Console errors, added new content, wrote blog posts, and provided marketing guidance. Our team worked closely with Annex Dentistry to craft content that was both engaging for patients and compliant with industry regulations.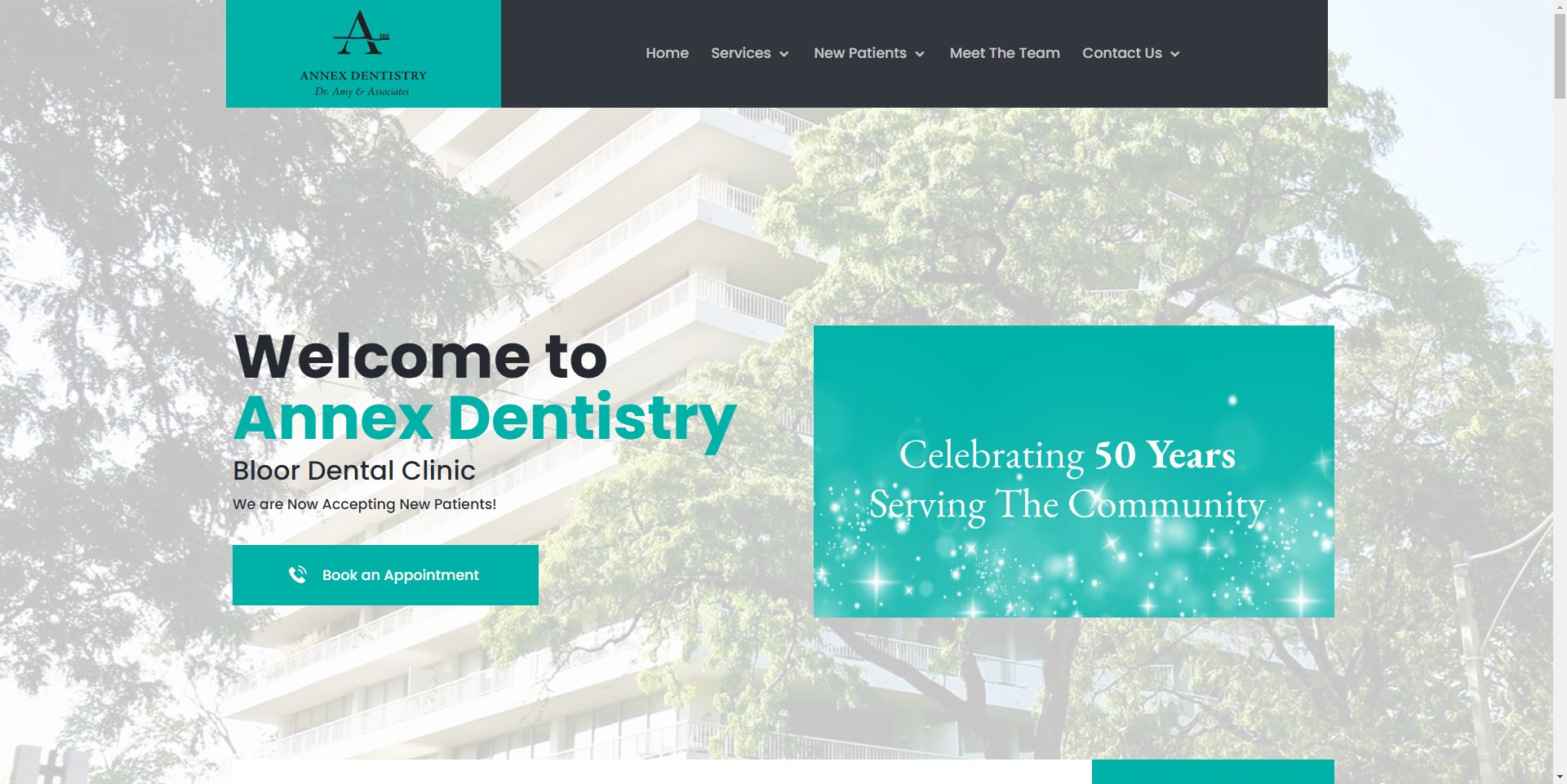 The Results
Our efforts led to substantial improvements in Annex Dentistry's online presence and patient engagement. The redesigned website not only attracted more visitors but also increased the time they spent on the site, indicating higher engagement.
Our SEO optimization efforts resulted in the website ranking higher on Google Search for targeted keywords, leading to increased visibility and patient acquisition. Specifically, we saw a significant increase in Google rankings, with 18 of our target keywords ranking in the top 3 positions.
The Google Ads campaign we ran for Annex Dentistry was also successful, generating over 200 conversions in just a year with an average cost per lead of less than $50. This led to a significant increase in patient inquiries and appointments.
The content we crafted, which was both engaging for patients and compliant with industry regulations, further enhanced Annex Dentistry's reputation as a trusted and leading dental practice in Toronto.
While we cannot share the specific reports publicly, these metrics provide a snapshot of the positive trends following the implementation of our strategies.
Conclusion
This case study serves as a testament to the power of effective digital marketing in the dental industry. By combining a modern website design with strategic content creation and SEO optimization, we were able to help Annex Dentistry reach more patients and solidify their reputation as a leading dental practice in Toronto.