Nomadic Advertising is thrilled to officially announce that we have been recognized as one of the top advertising agencies in Toronto and nationally by UpCity! Our team holds a shared belief that the best agencies don't withhold information from their customers, they teach them. Educated customers create better agency relationships, and we're proud to work as an integrated team with our clients. This dedication is only one reason our Toronto-based company has been recognized by UpCity as not only one of the best advertising agencies in our area but also nationally in Canada.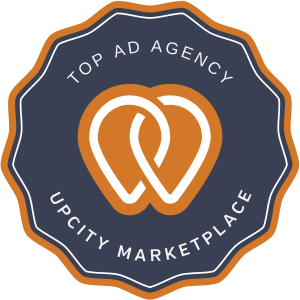 About UpCity
UpCity is a resource that helps connect businesses to service providers they can trust. With more than 70,000 listed providers—from marketing agencies to accounting firms to HR consultants to IT specialists, and many more— 2 million businesses (and counting) have visited UpCity to research and identify the best partner for their needs.  UpCity's proprietary algorithm utilizes a variety of digital signals to measure the credibility and trustworthiness of B2B service providers across the U.S. and Canada, as well as how likely they are to be recommended by their users. These digital data points like reviews (both on UpCity and other third-party review sites), presence in relevant search results, domain authority, website speed and experience, help UpCity connect businesses with outstanding service providers like Nomadic Advertising.  Dan Olson, CEO of UpCity, had this to say about the Nomadic Advertising team:
"Nomadic Advertising exemplifies what an agency should be: transparent, effective, and attentive."
This recognition has been driven in large part by our perfect 5-star UpCity review rating. Here are a few of our favorite pieces of feedback we've received from our amazing customers:
"The team at Nomadic Advertising is great to work with, they are super responsive and accessible.
We were looking for help with our site and getting our name out there. We went from an old site to
a brand new one as well as a complete digital strategy that brings us new customers from online,
which we never did before!" – Margaret Payton
"Nomadic Advertising helped me boost my new business presence online.
I had no idea where to get started and they helped me put together a plan that works for me." – Anthony G.
We're so proud to be an UpCity partner and this recognition only makes us prouder!