Social media used to be something that companies just tacked onto their marketing efforts, it was more of an afterthought in the early days. Businesses would get an intern to post a tweet, an update, or an image once a day, just so they could say that they were part of the new social world online. Fast forward a few years and now social media has not only become a key part of every company's marketing strategy, but for many small to mid-sized businesses, it is now their main channel to reach potential customers. Brands of all sizes are using social media to engage with people, whether they are actual customers, or people who find what they post interesting.
Businesses are increasingly opening up and showing their human side, and social media is a direct way to do that while using a casual and relaxed tone. Engagement is the main goal when getting involved with social media websites and apps, and conversations around products and services are the desired outcome for businesses so they can attract new attention for what they are selling. Direct selling isn't recommended for social media marketing, but strong engagement can eventually lead to interest in what businesses have to offer.
The importance of social media engagement is huge for many reasons, and below we outline 10 different ways for how to increase it in order to build awareness and fuel business growth.
10 Ways to improve your social media
1. Create content that inspires and motivates engagement – When you post something on a social media site it has to not only entertain and inform people, it also needs to have an element that gets them to really take notice and take action on. Content that people can relate to, have a personal experience within the past, or have a strong opinion on, will fire them up to engage in some capacity or another.
2. Use hashtags to your advantage – These help to make posts more targeted. Be sure to look for "trending topics" on Twitter daily for example, to see which hashtags are popular at any given time so you can jump into conversations that are sizzling with engagement.
3. Run giveaways and contests – You don't need to be super generous like Oprah or Ellen with giveaways, but if your online store sells shirts, for instance, you might want to create a micro contest using a post with something like "Why does volunteering make you feel good inside?" and whoever has the most liked response wins a shirt with a big heart on it. 
4. Use images and gifs – We are visual creatures, and using images and gifs in your posts catches people's attention better, and makes them more likely to emotionally engage.
5. Ask interesting questions – Spark people's curiosity by posting questions that they can't resist to answer. A question such as "What was your most embarrassing experience while at the gym?!" with a red-faced emoji might produce some funny answers, and really spark a fascinating conversation.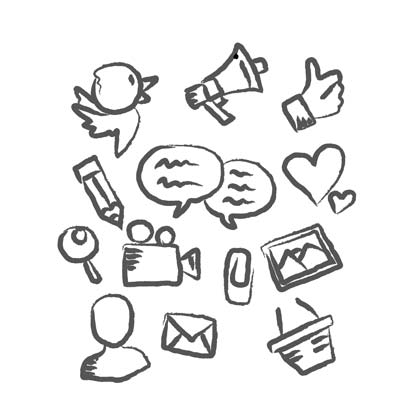 6. Share and comment on other content – It's not enough to just post your own content, you need to look at what others are posting and are interested in, and jump into the conversation. Do a search that relates to your business either directly or indirectly, and look for posts that already have a good amount of engagement, or even ones that don't but certainly deserve to, and add a witty reply. When you engage with other's posts, they are more likely to engage with yours down the road.
7. Reply to all questions and comments – If someone takes time out of their day to engage with your social media account, then you can make time to respond to them. Nobody likes to be ignored, and quite honestly it's rude, so be sure to engage with each and every person that engages with you.
8. Tighten up the beginning of your post – The first few words of your post are the most critical, so ensure that you edit and re-edit if necessary so that your followers and fans will read your whole post, and then will be more likely to engage.
9. Encourage and ask for shares, likes, and comments
– If you crafted a quality post that you feel is worthy of attention and engagement, then at the bottom of your post encourage a share, like, or a comment depending on what you want to get back. Don't do this too often though, just on your posts that you want to make an extra impact with.
10. Post remarkable content – Pieces of content that you post whether in the form of text, images, or videos, need to be worth remarking on. Experiment with all sorts of topics including relevant news items that are different or impactful, charity events, and essentially anything that you think will spark a conversation. See what your followers and fans respond to the most, and post more content that's similar to maximize your social capital, and follower and fan engagement.