TORONTO GOOGLE AD SPECIALISTS
TORONTO
GOOGLE ADS
Nomadic Advertising specializes in making sure our clients in all industries are able to reach their maximum potential on Google
TORONTO

 Google Ad Management
Professional Ad Managers
Our team has experience working with a wide range of industries, our professional ad managers will make sure your campaign is getting the best results.
Advanced Lead Tracking
We track the results from your ad campaign incredibly diligently. Including call tracking, contact form tracking, ad performance tracking and more.
Cost Based On Ad Spend
We will work with you to determine a management fee based on your ad spend. Making our services affordable for all budgets.
Month-Month Contracts
We don't lock you and your business into any lengthy contracts. We believe in the work that we do and know you will make the best choice for your business.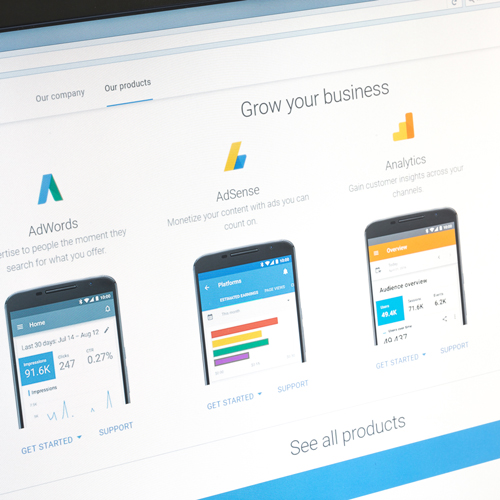 We work closely with our clients to deeply understand their growth needs, and then design and implement solutions with the goals of expanding their digital footprint, reaching new customers, and increasing revenue streams and profitability. We are quickly expanding our team from coast to coast across Canada to handle the fast-growing demand for our digital marketing services, from the Greater Toronto area, to Waterloo, Guelph, Windsor, and all the way west to the Greater Vancouver area.
Our team's vast experience and wide geographic make up help us to provide a more focused approach for each client that we onboard, and having intimate knowledge of each market has brought tangible value that foreign companies simply can't match. In order to understand each specific community's DNA, whether it's north-west Oakville, Vancouver, south Mississauga, a small but fast-growing neighborhood in Markham, or Little Italy in Toronto, it's important to have team members that have first-hand knowledge in these areas, which means our clients are getting campaigns that are managed through a laser-focused methodology. When dealing with companies that are in different time zones it can be frustrating, tedious, and hard to get on the same page on any given day, this is why we deploy the Nomadic approach by establishing footholds where our client's teams are based. To be the highest performing SEO company in the world you have to be located around the globe, and as our client base expands outside of Canadian borders, so too will our team. Our talent acquisition efforts are taking on a more global approach so that we can properly serve clients in the same quality way that we do our Ontario and British Columbia-based organizations.
We closely listen to your company's current growth roadblocks, and collaborate with your team's management to deliver successful campaigns that break through those opposing factors to achieve the lofty goals your business strives for. We are completely accountable for the results that we deliver both short and long-term, and provide a fully customized monthly report that you can actually understand, so you can closely track your campaign's performance every step along the exciting journey. By setting up goals, tracking clicks, deciding on which short list of keywords to focus on early on, and analyzing the traffic flow on your site, your SEO specialists from Nomadic can formulate a realistic plan to help optimize user's experiences, whether on a computer, tablet, or mobile phone, and convert an interested and motivated searcher into a customer.