We are thrilled to announce that Nomadic Advertising has been honored with the prestigious title of "Best Digital Marketing Agency – Canada" by the MarTech Awards. This recognition is a testament to our commitment to excellence, innovation, and our unwavering dedication to our clients.
Our CEO, Johnny Baskin, expressed his gratitude, saying, "It's an honor to be recognized by MarTech Awards as Best Digital Marketing Agency Canada, we continue to work hard to rise above our client's expectations."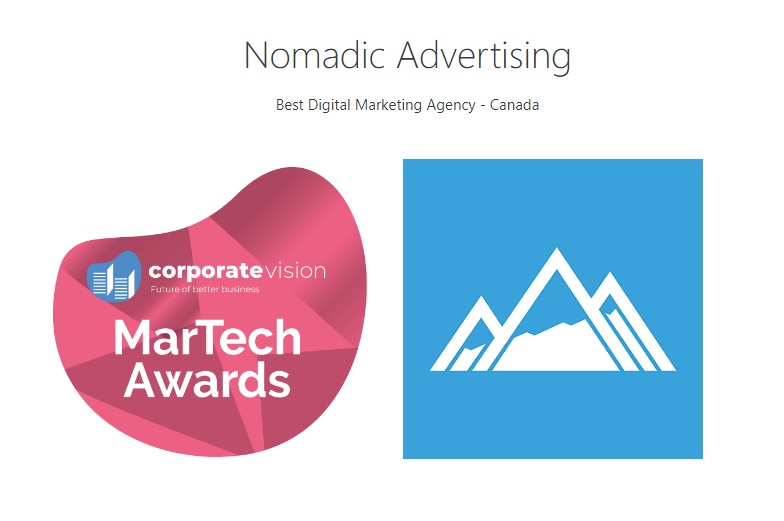 Since our inception in 2014, we have been on a mission to help businesses grow and thrive in the digital landscape. Our team of talented website developers, designers, and advertising specialists have worked tirelessly to generate thousands of new customers for our clients through our innovative digital marketing strategies.
Our approach is simple: we believe that all great companies deserve to be discovered. This award from MarTech Awards is not just a recognition of our hard work, but it's also a testament to the trust and faith our clients have in us. We are grateful for their continued support and look forward to achieving even greater heights together.
For more information about our award, you can visit the MarTech Awards page.
Thank you to everyone who has been a part of our journey so far. We are excited about what the future holds and are committed to continuing to deliver exceptional digital marketing services to our clients.
If you're interested in learning more about our services or how we can help your business grow, please don't hesitate to contact us.
Here's to many more years of success and innovation!