Between August 8 and 9, Toronto hosted for the 4th time the Futurist Blockchain Conference, Canada's biggest cryptocurrency and blockchain technology event, which keeps getting bigger and better each year. The audience engagement has only increased since 2018 when the first conference took place.  After the quiet months we have all been through, the Rebel Entertainment Complex and Cabana in Toronto was definitely ready to host the 139 speakers and the buzzing audience who, like us, had been waiting for the news and projects that were sure to be announced; we were are all eager to gather around the latest technological advancements in this fully immersive experience,  and they didn't disappoint. Our expectations were completely fulfilled during this two-day mega event and we here at Nomadic Advertising are incredibly proud to have been able to witness so many great figures of our industry, be at the front row of numerous announcements and learn firsthand what it is that makes this industry great. Not to mention our excitement to connect and help market companies and projects in the blockchain space. 
The conference was hosted by Untraceable Events, one of the first blockchain companies in Canada, founded by Tracy Leparulo and composed of an almost all-female team. Together they have amounted to global recognition and have specialized in event management, event marketing, and event technology, through conferences & expos, hackathons, and various community events, all around the latest bitcoin, blockchain, crypto, and tradeshow technology. It is no wonder that they have been hosting events in Canada since 2013 with undeniable success to the point where this Futurist Conference effortlessly reunited global investors, developers, financial institutions, academics, researchers, startups, different businesses, and tech geniuses.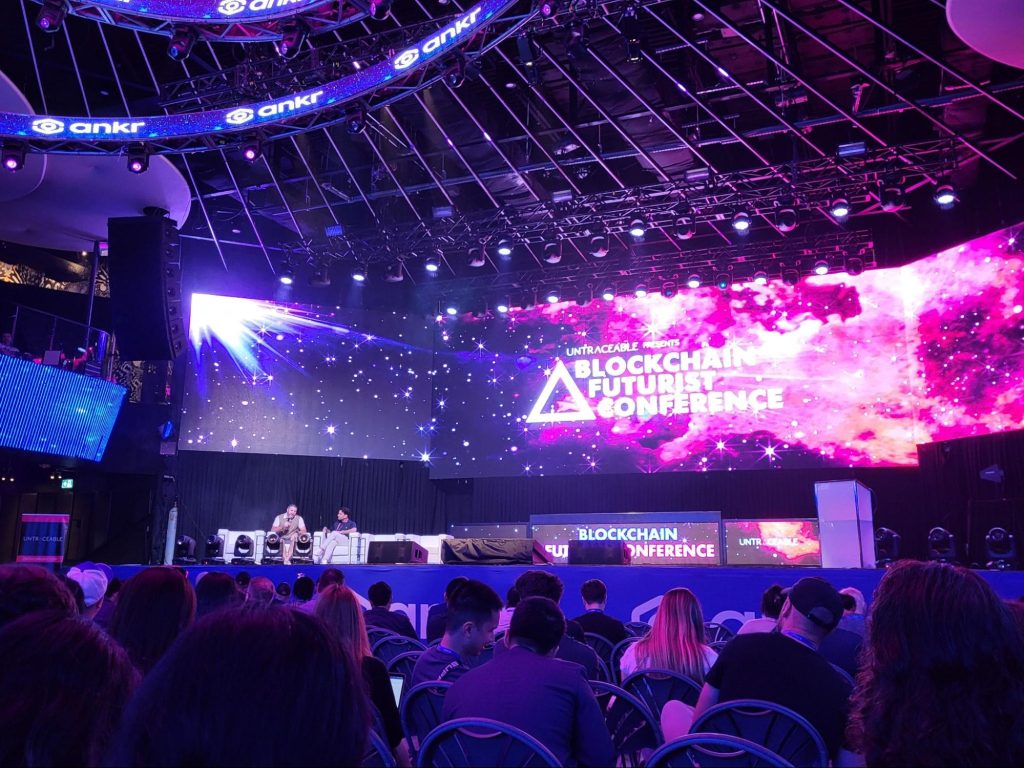 Here are the highlights of this year's conference: 
Despite a generalized fear surrounding cryptocurrencies worldwide, with a recession on the horizon, and large companies being cautious with their investments, this conference kept its crypto enthusiasm strong by creating one of the most crypto-friendly events, with Crypto Helicopter Rides and crypto-enabled marketplaces, as well as BTMs onsite for attendees to purchase cryptocurrencies. Elena Sinelnikova, CEO & Co-Founder of CryptoChicks, and Ben Armstrong, founder of BITBOY CRYPTO, were some of the known public figures that had their own panels, which shows just how committed this conference is to cryptocurrencies.
Of course, that wasn't the only point of interest in this massive event; blockchain technology was also right at the center of it. Although blockchain technology has been around for years now, it's clear the interest surrounding it has rapidly increased in recent years, to the point where the technology has been soaring well beyond bitcoin. This technology keeps improving and the Blockchain Futurist Conference was at the forefront of it, with a whole room completely dedicated to a Blockchain Bootcamp that aimed to promote the adoption and education of this technology and what it has to offer. And perhaps one of the most anticipated blockchain events, ETHToronto Hackathon, which took place at the Mega Hacker Dome, was the perfect scenario for companies looking for new talent. This hackathon had the added bonus of helping developers show their talents while they were also competing for the chance to win amazing prizes. To top it all off, Vitalik Buterin and Anthoni Di lorio (founder of Decentral, Jaxx) both of whom are founders of Ethereum, were two of the top speakers for this year's conference. We knew they were bound to make clear exactly why it is that blockchain technology has a massive community worldwide and keeps constantly improving itself, but their panels really surpassed every expectation we might have had, especially Buterin's who, at only 28 years old, is such a strong figure in the industry, he really blew us away.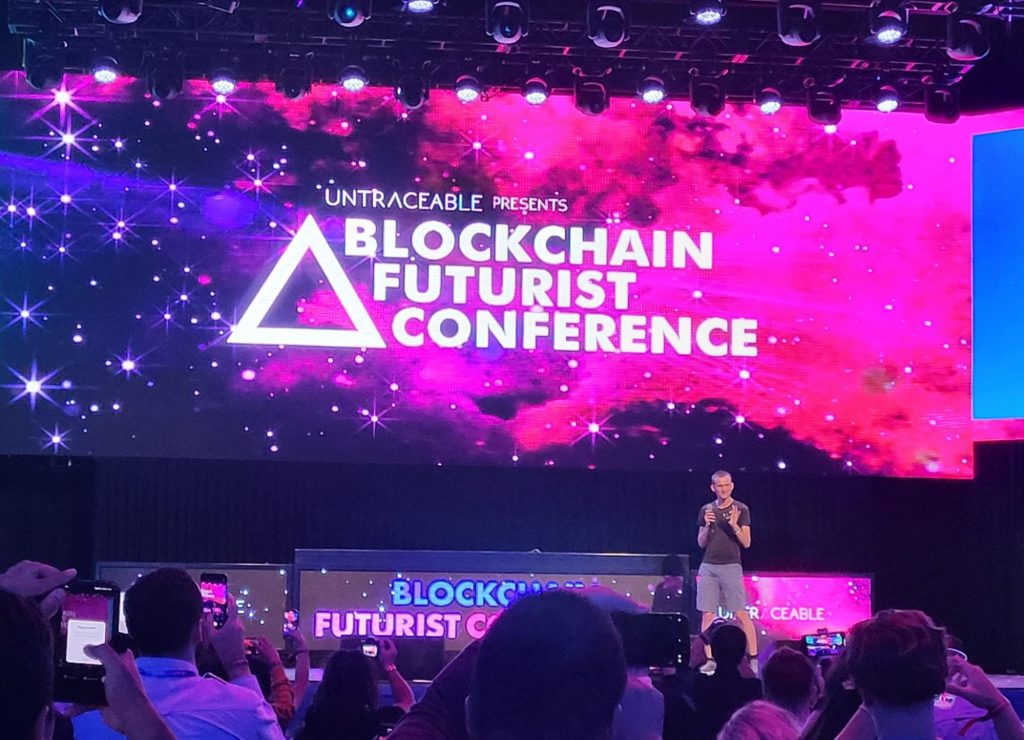 Speaking of blockchain technology, NFTs (or non-fungible tokens) were also a major component of the conference. Their market saw a dramatic increase between 2020 and 2021 and, in spite of the whirlwind last year this technology has had, the conference remains a visionary in the field: they brought in (among many other speakers)  Igor Denisov, Head of Corporate Development of Squirrel Technologies, "a development company building the next generation of DeFi and NFT products to onboard more retail users to blockchain technology". IllaDaProducer was also set to speak, the Grammy-nominated producer who has recently launched his NFT platform, Whowho's TreeHous. According to his interview with AllHiphop, he is "…somebody who's really bullish into Web3, crypto, and decentralization. I'm a music lover and a lover of tech and finance. Everything in the middle", who is now seeking to  "leverage the metaverse to give back to the music community."
Precisely in the union point between the Metaverse and NFTs is where the conference's input really shone through, by once again organizing 3 official NFT Galleries: the first one was located at the Main Entrance, the second one in the Purple Room, and the last one in the VIP Savage Backstage. VR is seen as one of the perfect tools to really appreciate art, especially when it comes to an NFT art gallery, allowing viewers to see the digital art piece (displayed on large screens) "…up close with every detail and from every angle", with the Ethereum blockchain at the forefront of this new type of art galleries. The experience was about as amazing and futuristic as it sounds. It's clear the Untraceable team really knows just how cutting-edge their events always are. Their first crypto gallery was at the 2014 Bitcoin Expo in Canada and since then they have been organizing Art Galleries consistently and with great success in the crypto space. There were also top panels on NFTs, DAOs, GameFi, and the Metaverse located in the Hedera Stage on the second floor.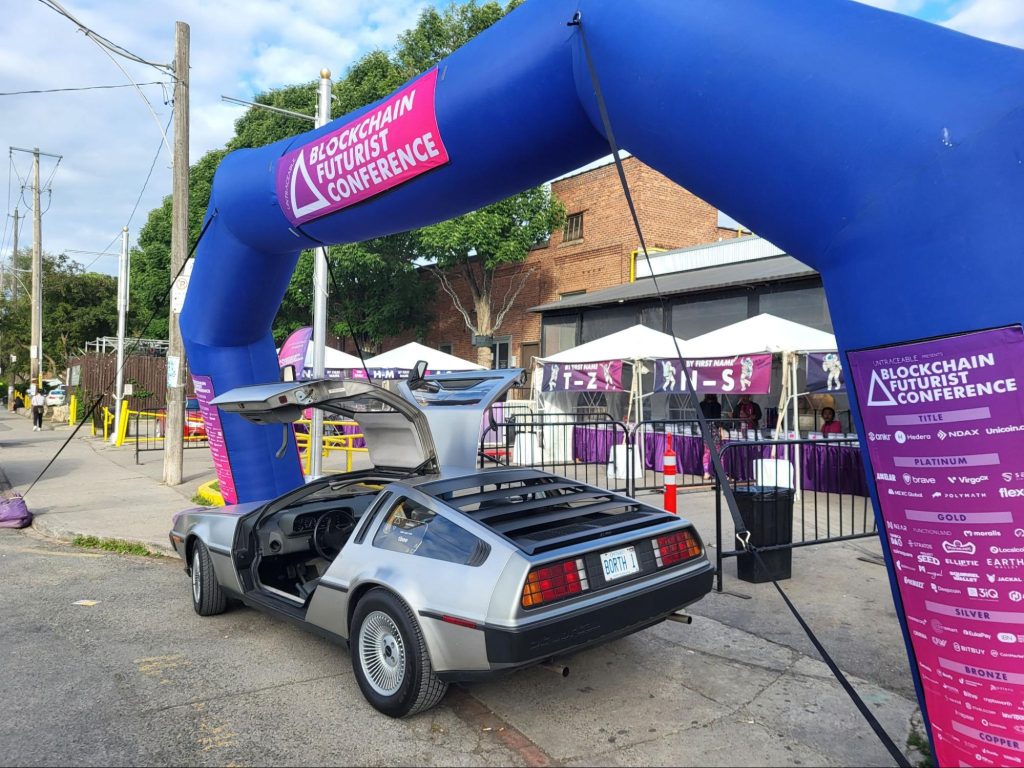 We were eager to attend this conference because we see the potential of the industry and are well versed in it. It was a unique opportunity to stay up to date on the latest trends and news surrounding our industry and we couldn't wait to be in the middle of like-minded people as well as legends and pioneers who continue to single-handedly catapult this technology into a global, massive success.