What is Google My Business and how does it work?
It will not come as a surprise to know that Google is used by almost all internet users to find information, products, and services online. As of 2022, Google boasts a 92%[1] search market share.
Google My Business (or GMB) can be defined as a tool that gives business owners an opportunity to manage business profiles. Anyone (including non-business owners) can create a business profile, which is similar to adding a place on Google Maps. In order to create a business profile, Google Google simply requires a business name, category, and location. What's more, profiles can start getting populated with reviews, questions, photos, and information that Google collects from the web.
Everything seemed so simple up until this point. However, once a free business profile is in place, businesses need a Google My Business account to claim and manage such profiles effectively. A Google My Business account enables you to claim ownership and gain management rights over your business profile, as well as unlock many features that boost your business's visibility on Google. This is how Google can be of help to business owners: these types of handy features make it possible for you to prove your connection to a business and well as enjoy many associated benefits.
What is a Google Business Profile?
Google Business Profile, formerly GMB (Google My Business) is a free Google tool that allows small business owners to market their businesses on Google Search results and Google Maps. A Google Business Profile is composed of vital business information that allows potential customers to connect with you.
Think of Google Business Profile as your own "piece of property" on Google's local search results. When people need to find a local business, like a local restaurant, they'll usually search on Google for some options. If you have set up a Google Business Profile, potential customers will find your local restaurant's information and contact or visit you.
Below is an example of Google Business Profiles for Mexican restaurants in Toronto.

Google My Business vs. Google Business Profile 
In late 2021, Google announced they were renaming Google My Business (popularly known as GMB) to Google Business Profile. The change was in line with Google's efforts to move business profile management from the GMB app directly to Google Maps, Google Search, and respective apps. The change was entirely to keep things simple and preceded other new efforts, such as retiring the Google My Business app completely in 2023. 
This isn't the first name change. The local business management tool/product has assumed many names before, including Google Places, Google+ Local, and Google Local. Google's new change is aimed at encouraging businesses to manage their own single listings directly on Google Maps or Google Search via web interface/mobile apps instead of the GMB console. Google wants the existing GMB web experience (renamed as Business Profile Manager) to support larger businesses that have multiple locations. 
While announcing the name change, Google also announced new feature changes. They include;
Verification changes:

Small businesses can claim and verify their Google Business Profiles directly in Google Maps and Google Search.

Call history:

Call history on your Google Business Profile is available for select countries (launched in US and Canada). This feature allows you to find recent calls, missed calls, and other call history data when customers press the "CALL" button located on the Google Business Profile. Call data can be extracted by going to your store on Google and selecting customers, as shown below. The example store is Amrapali Jewels.

After clicking the "customers" tab, you should access info on calls, messaging, etc.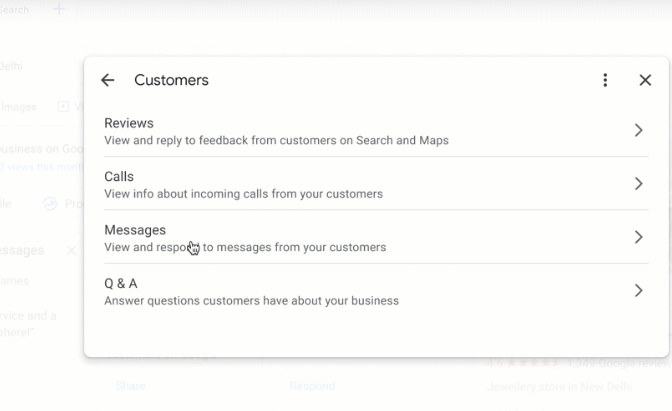 Messaging

: It's now possible to message from Google search, read/reply to messages directly from your Google Business Profile, and enjoy other messaging features such as controlling message read receipts on Google Maps and Google Search.
When you click "messages", you'll be redirected as shown below, where you can read and reply to messages directly from your profile.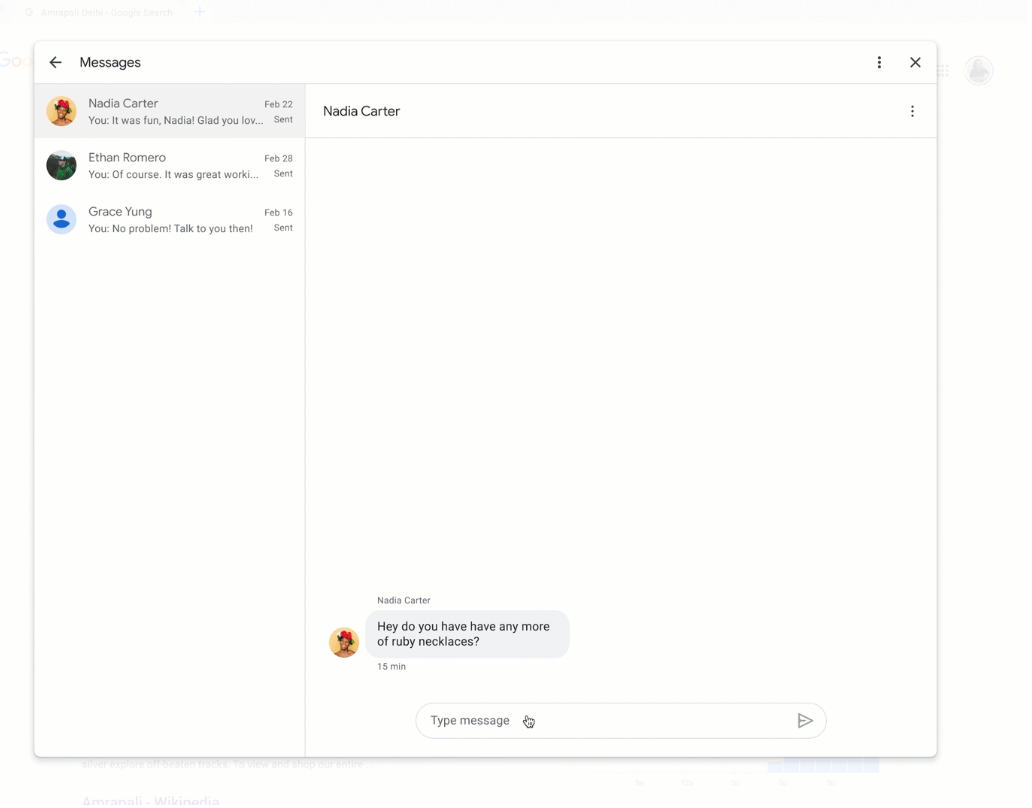 Why Should I Care About a Google Business Profile?
Free Google Business Listings do more than most business owners realize. It doesn't really matter if you are just starting or you are already established. When fully optimized, your profile will showcase all your best features, making it easier for potential customers to discover you, learn about you, and engage you.
Most importantly, this will be directly on Google. Your Google Business Profile makes it possible to connect with clients via messaging, responding to reviews and phone calls directly on Google. You can also showcase photos, feature products, and menu items directly on Google.
Main Risks of Ignoring Your Google Business Profile
In a nutshell,

you risk losing clients

by failing to take charge of how your Google Business Profile looks. 

You also

risk having a poor reputation.

Your Google Business Profile makes it easier to respond to Google reviews which is an important Google ranking and influencing factor among customers deciding if they'll buy from you or not. 

You will also

lose a competitive advantage

if your competitors have better profiles. 

Lastly, you risk having a

poor local search ranking

result because Google ranks profiles based on their quality (how well they have been set up). Having a profile isn't enough. It must be set up properly.
Creating a Google Business Profile 
Now that you understand the importance of having a Google Business Profile that is perfectly set up, let's shift our focus to doing exactly that. Below is a step-by-step guide to creating the right Google Business Profile for your business. 
Step 1: Ensure You Have a Google Account for Managing your Business
You need a Google account i.e., Gmail, to take charge of your profile. To get started, use the Gmail account you prefer using for business. If you don't have one, you can create one specifically for your business, as shown below.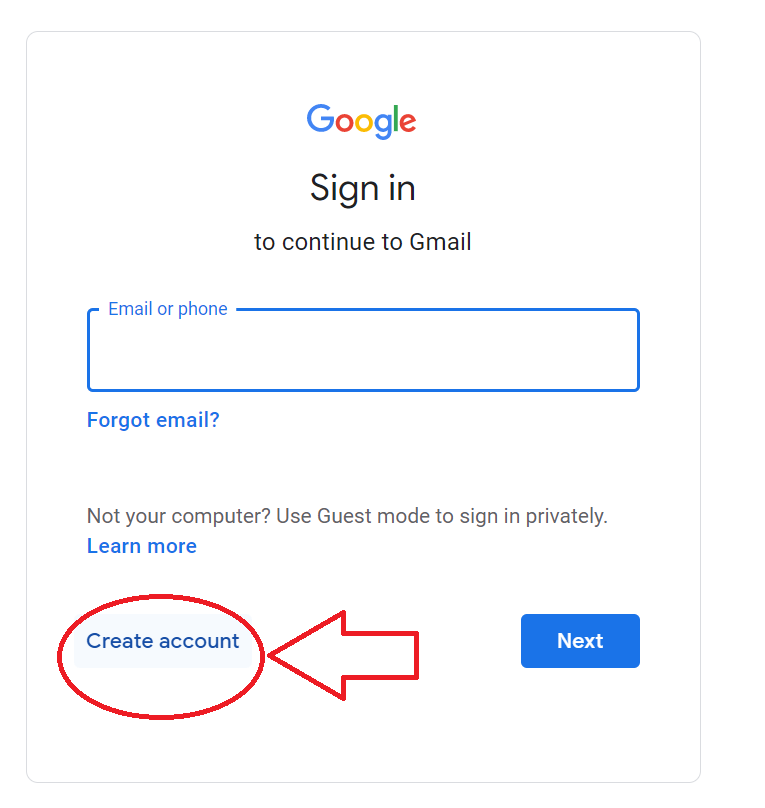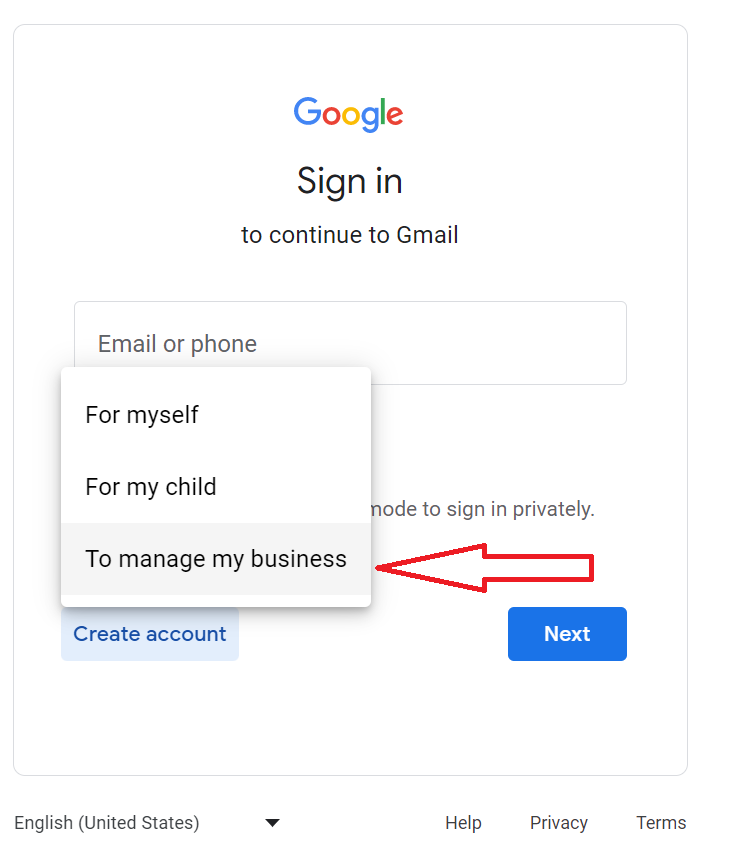 Step 2: Ensure you have a Google Business Profile
Your business profile can exist even if you didn't create it. This is possible since business profiles are simply places on Google Maps, and anyone or a computer can add a business profile.
While business profiles can exist on their own, you need a "My Business" account to claim and gain control of the information in that business profile. In simple terms, you must set up a business profile to claim.
Checking if there is an existing business profile is as simple as going to Google Maps (Google.com/maps) and searching for your business. If you can see your business name with an address, the business profile exists, as shown below.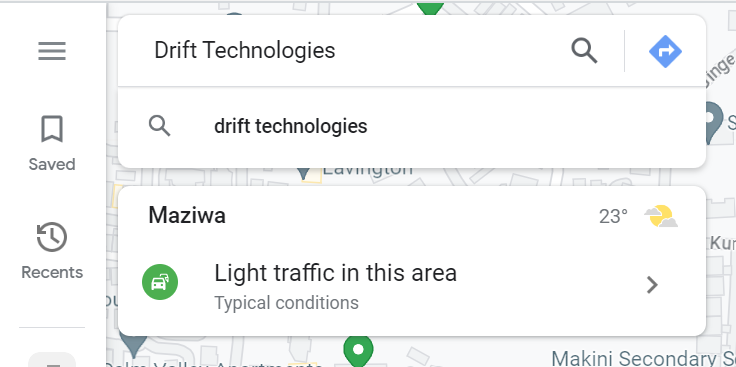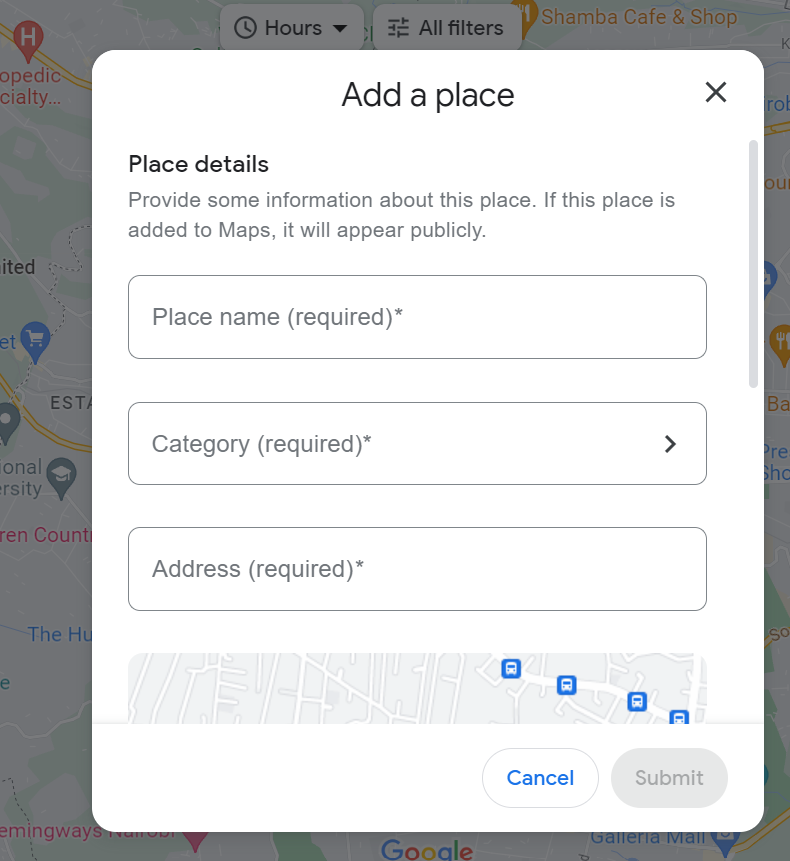 Step 3: Set Up Google Business Profile
To claim your profile, you must have a Google business account. We covered the steps of setting up a Google account for your business above (in step 1). Once you are logged in your Google account, visit google.com/business, then click "manage now".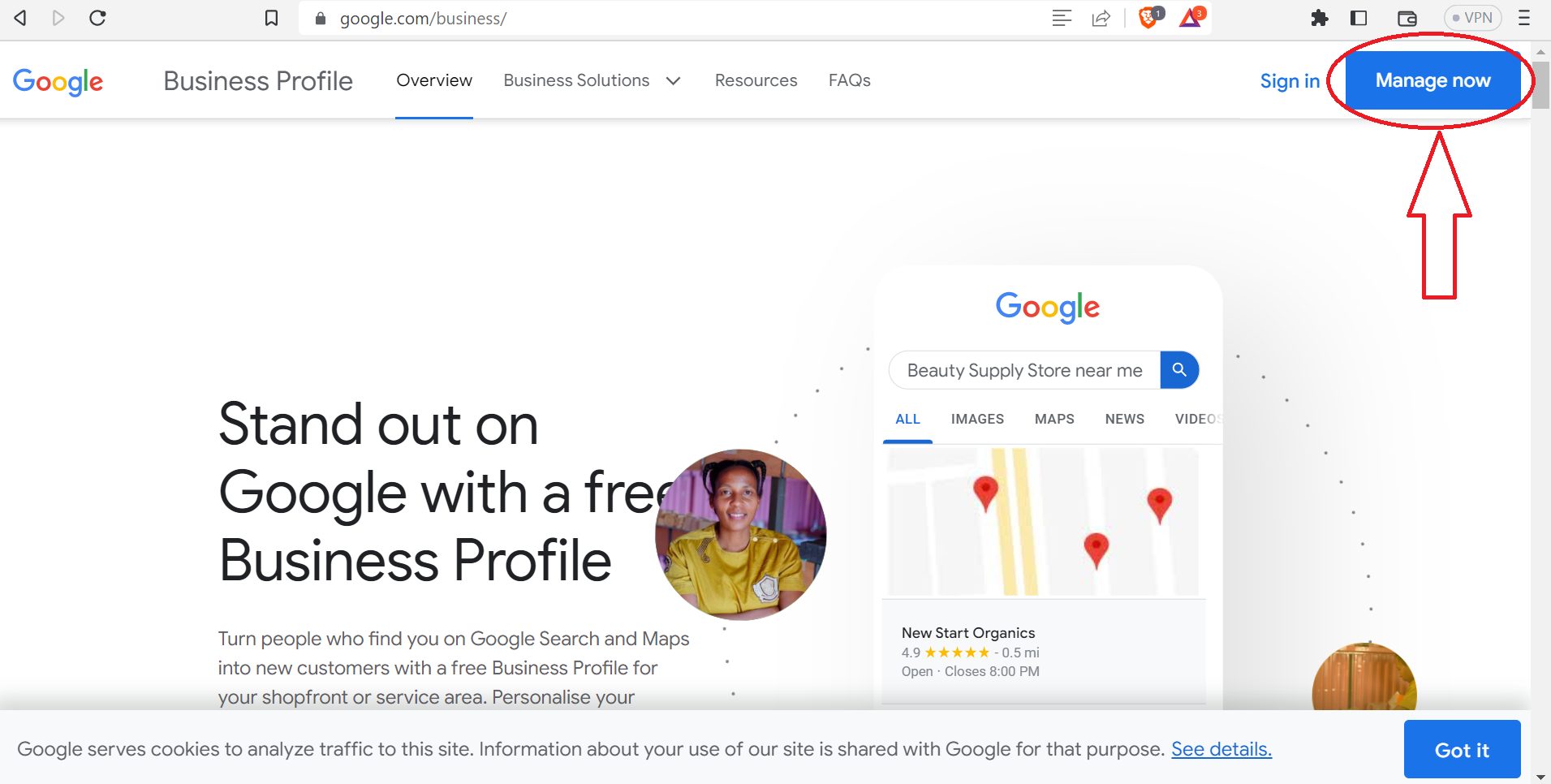 You'll be prompted to provide basic business information like the business name, address, phone number, website, category, etc. There will be many other business information options to fill in when the profile is fully set up. This information is critical for optimizing your business listing.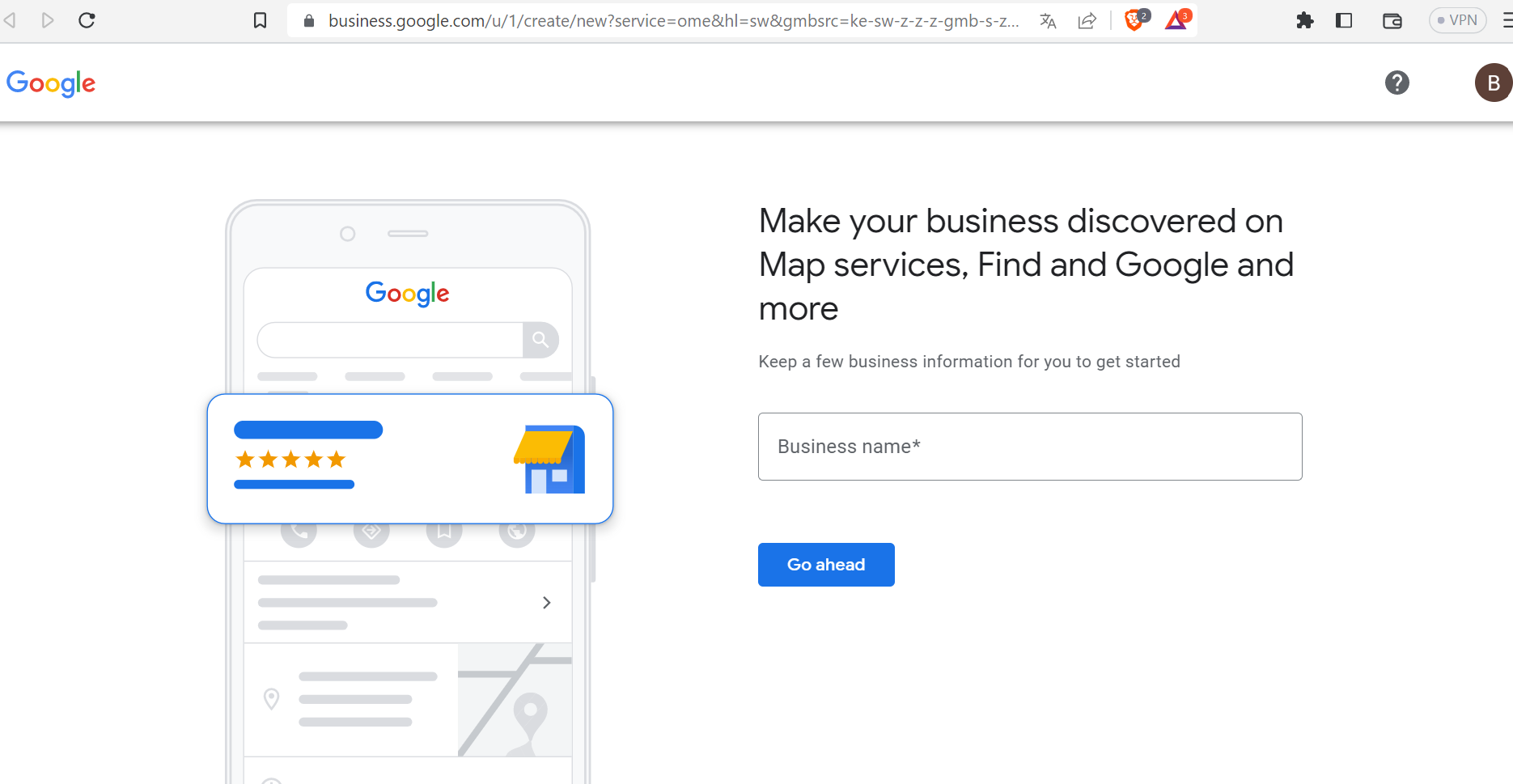 Step 4: Verifying Business Profile
A Google Business Profile may be in existence. However, you must instruct Google to connect your Google business account to your business profile by verifying ownership. You can do this by going back to Google Maps and locating your business. You can also visit Google Search and claim your business.
If you choose the Google Maps method, search your business, click on the profile to expand it, and then click on the "claim business option".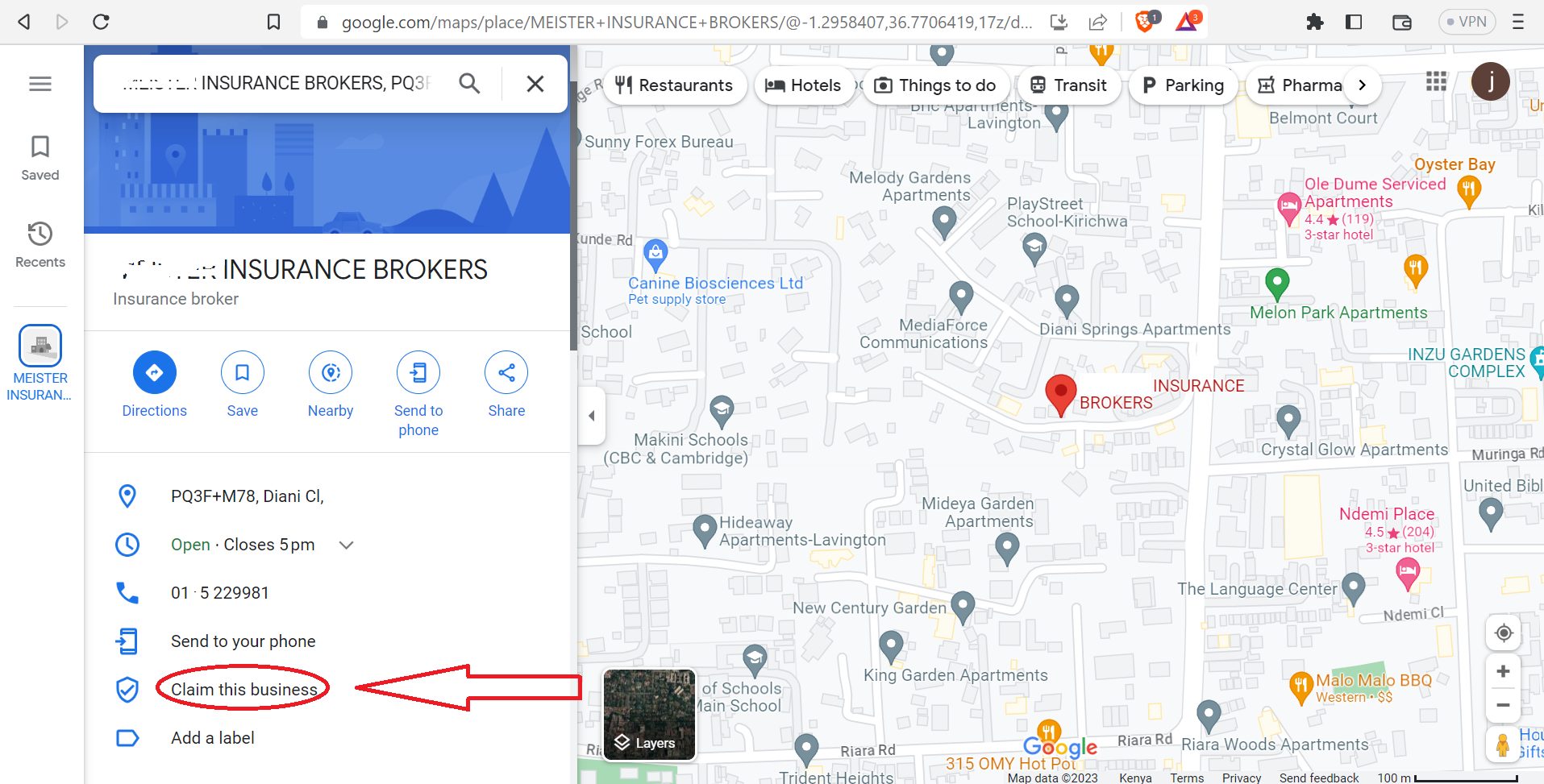 Proceed and click "manage now" and follow the prompts.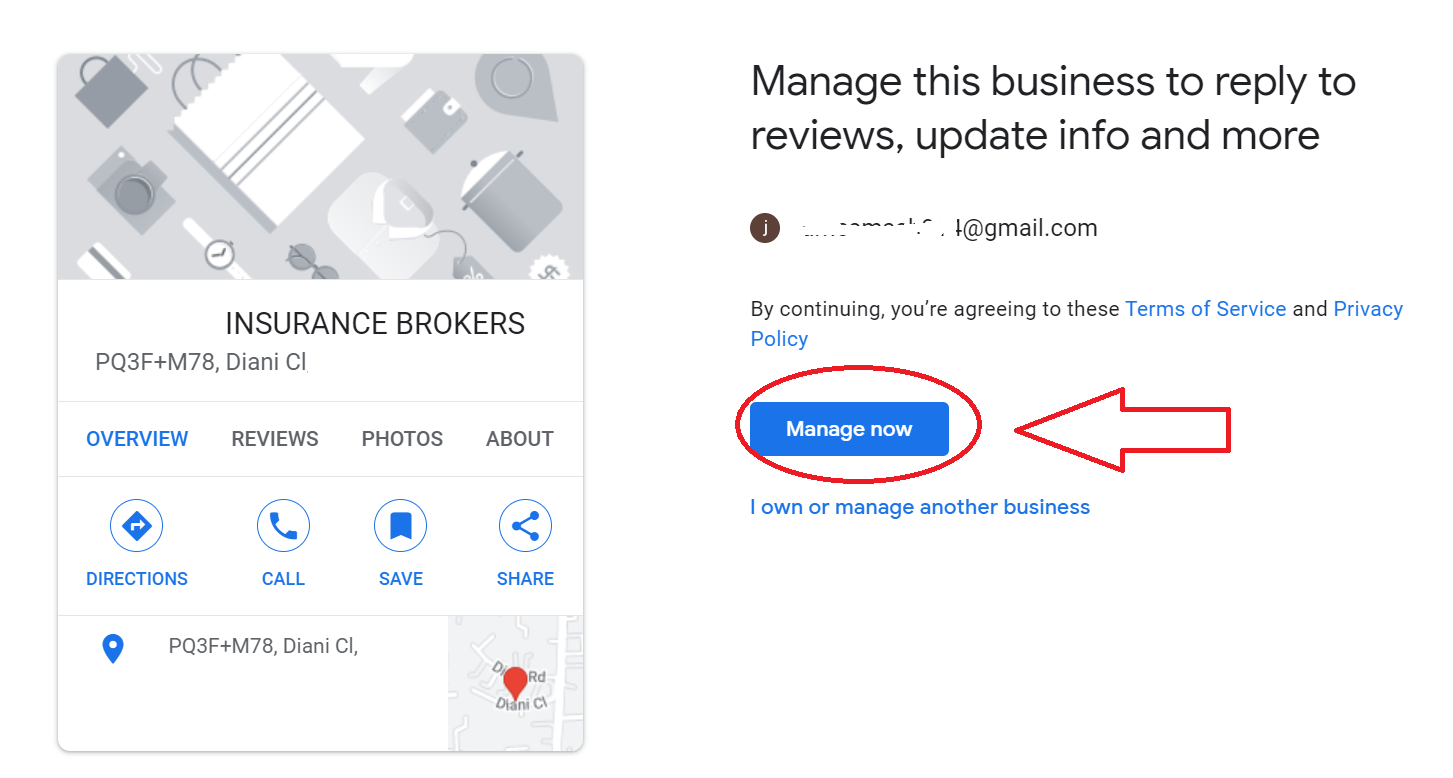 You can achieve the same result by searching for your business on Google search and then clicking on "own this business?". You will be directed to the "manage now" page where you can follow the prompts as indicated above.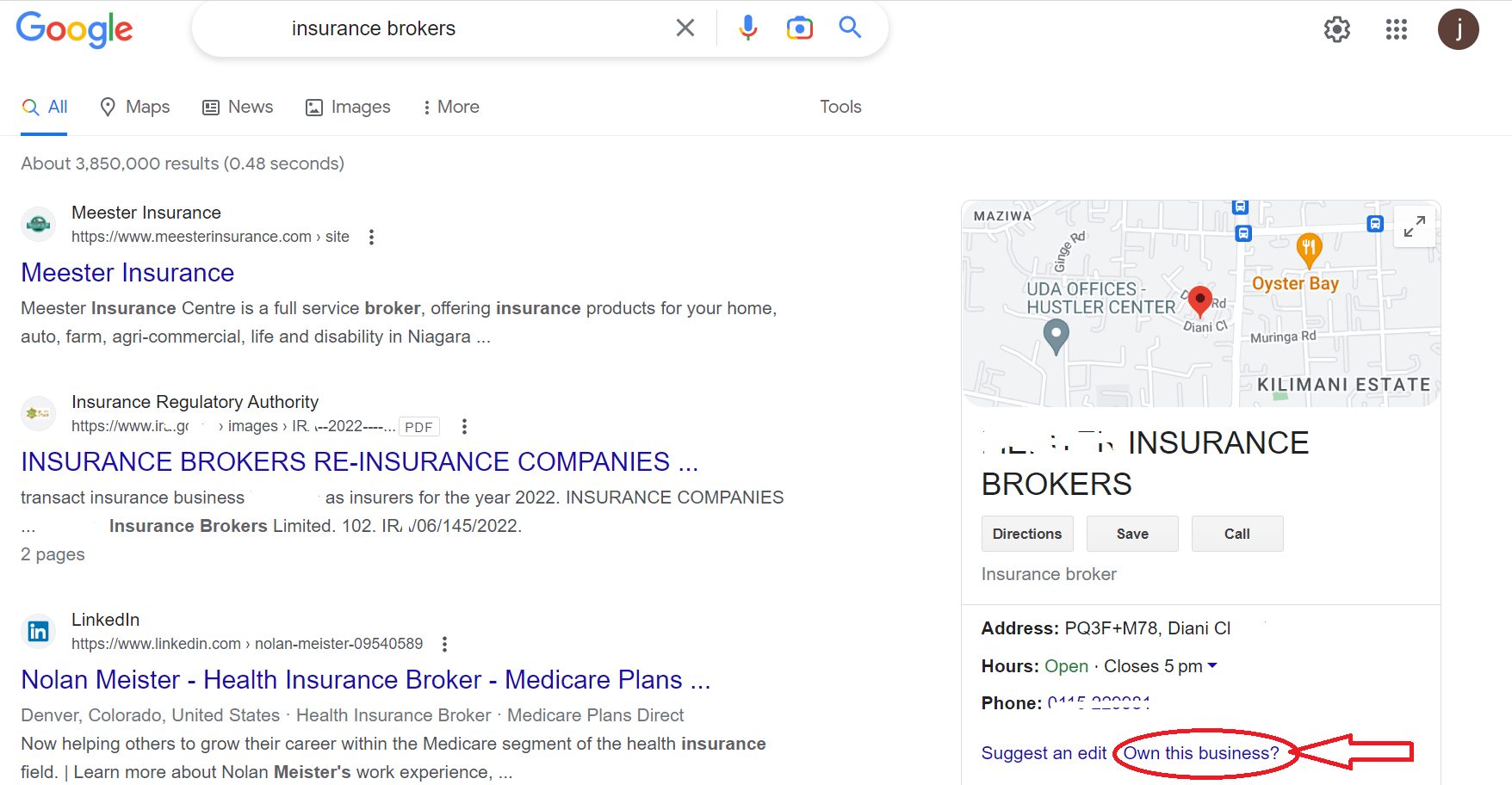 The "manage now" page requires a lot of business information to verify you as the rightful owner. Validation will depend on the niche/type of business. Some businesses can be validated immediately if you are logged in to the Google Business Profile. 
This applies if you are the same person who set up the business profile. In many cases, you just need to verify via a verification code sent to you through email, text, or regular mail to access the Google Business dashboard.
Entering the code offers you full ownership over your Google Business Profile. You can proceed and update more information, add more detail, manage reviews, and do other local SEO tasks to ensure your business ranks high on Google local search.
Step 5: Optimizing your Google Business Profile
As mentioned above, creating a Google Business Profile is just the beginning. You must optimize the profile as part of your Local SEO efforts. Remember, Google ranks high-quality profiles better, and quality from a Google Business Profile perspective means a complete profile with all possible information and relevant keywords. 
See below for an example of an incomplete profile (with missing reviews and website information), and one that is complete.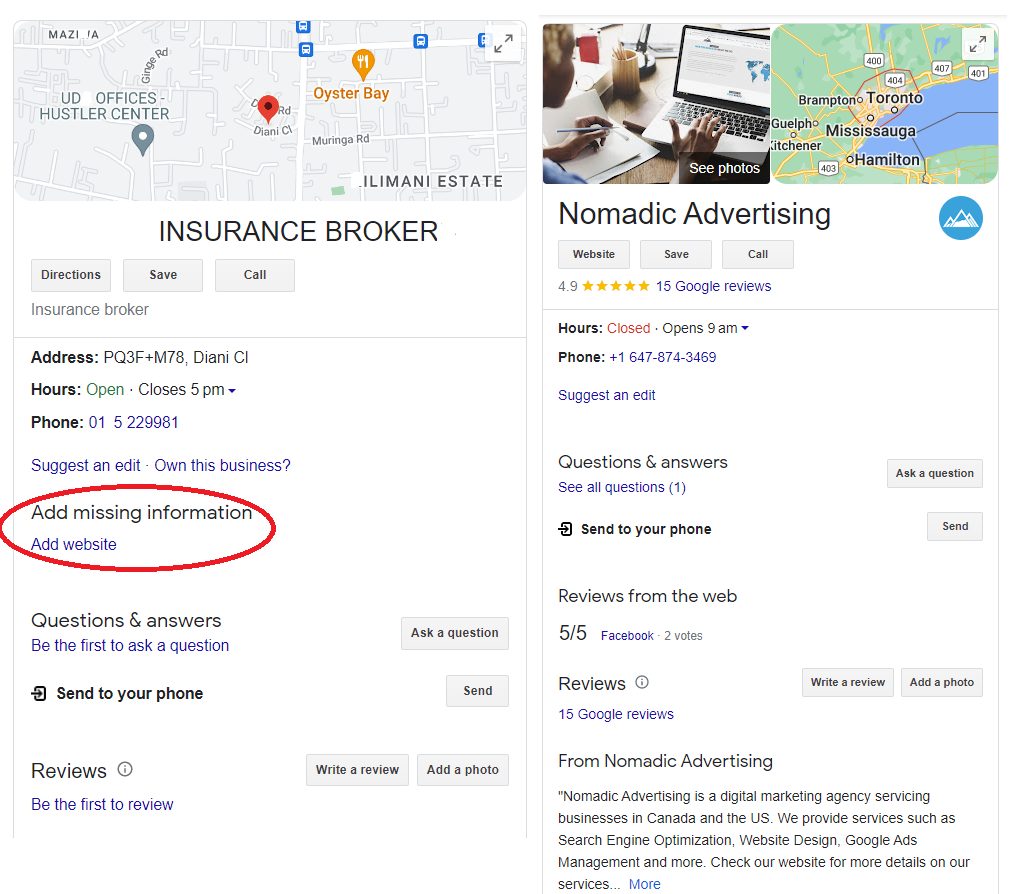 Once you have a Google Business Profile (GBP) account, you can optimize your profile perfectly. Basic optimization involves the following;
Completing the entire profile

: You must provide Google with all the business information they ask for before your business profile is considered complete. Every section collects vital information that Google can use to connect you with potential clients. A complete profile also increases the odds of ranking higher on local search results.

Adding high-quality photos

: A Google Business Profile can't be complete without pictures of your business, your products/services, your business logo, a cover photo, etc. Remember to include pictures i.e., your business logo, that can easily differentiate your business from others.

Remember to add offers, news, and special features

: You can add information such as service menus, product tags, popular meals, links to available orders/reservations, a list of amenities, etc. The features will obviously depend on your type of business. Adding as much information as possible will give your profile an edge when potential customers search for businesses like yours on Google.

Request customer reviews and questions:

Your Google Business Profile needs reviews to be complete. You need to ask past or current customers to review you and ask questions you can reply to for your local SEO results to improve. Google favors businesses with a high number of positive reviews and questions when ranking local businesses. Most importantly, those reviews need to be from actual people (preferably with verifiable Google accounts.)
Your profile also needs other features like call-to-action/s (CTAs) dictated by what you want your potential customers to do when they get to your profile. It can be anything from "learn more" to "buy", "call", etc. CTAs prompt potential customers to take desired actions right from Google's search results before they get distracted. 
Service businesses like hotels can benefit from special booking CTAs i.e., Reserve with Google (or RwG) which allows potential customers to reserve or book appointments quickly from Google Search, Google Maps, or the Reserve with Google site.
There's more to creating the perfect Google Business Profile to propel your business to page 1 of local search results. For instance, your profile information also needs to have the right keywords. This calls for special SEO techniques like keyword optimization. 
Google my business listing
What is GMB listing?
Another handy feature for business owners is a GMB listing. This shows Google searchers the target location of your business, among other critical information like reviews, directions (how to locate your business), website, and phone number. A GMB listing is created when you set up a GMB account and it is likely to appear on SERPs when people search for information, products/services offered by your business, or nearby businesses. The biggest benefit of this feature is its convenience: it is the easiest way for people to find your business's location and have easy access to reviews and other important information in just a few clicks.
Where can I find my GMB listing?
Google My Business (or GMB) listings appear at the top on SERPS (search engine results pages), just below paid Google Ads.
What is a GMB audit?
Now that we know how valuable a GMB listing is, let's analyze how to gain the most out of this tool. A GMB audit is an independent assessment of a Google My Business listing to see if it needs improvement. The main aim of the audit is to optimize a GMB listing to make it rank better on search results.
What goes into a GMB audit?
A GMB audit looks into every element of a Google My Business listing that can be improved. Our years of experience as digital marketers, SEO experts, and Google My Business managers mean we have a foolproof system when it comes to all types of audits.
In case this is your first GM audit, allow us to give you a hand. You can follow our step-by-step guide and use it as an audit checklist to learn the tricks we have used to help our clients through the years:
How to do a GMB audit: a step-by-step guide
Step 1: Check for the existence of a GMB listing
As mentioned above, you can have a GMB listing without creating one. Anyone can create a business profile on your behalf. Although it might sound simple, a GMB audit begins by checking if you already have a GMB listing. To check, simply go to Google Maps and then search for your business name. If a profile exists that you didn't create, you have the opportunity to claim the business, as shown below.
Step 2: Identify and audit the competition
If you are unclear about where to being, it helps to check what your competitors are doing. For the purposes of GMB listings, your competitors are those who rank above you. GMB listings are ranked by Google based on many ranking signals, with location being a major factor. As a result, the focus should be on competitors near you.
Note your competitors' location and title, which is usually shown in their GMB listing. Top competitors who rank above you tend to have listing titles with keywords. However, since Google guidelines[2] require real business names to be in the listing title without adding legal suffixes/keyword modifiers, it helps to have a business name that is a keyword in itself. This also helps identify competitors who have ranked fairly better than you. Please note you reserve the right to report competitors who haven't followed the rules by suggesting an edit on their listing.
Step 3: Checking business details
Once the existence of a listing is established and you have an idea of your competition and their tactics, the next step is checking if your listing has accurate business details. The most critical business details include the business Name, business Address, and phone Number collectively referred to as NAP. However, business listings should contain more information, such as the company website, email address, business description, business category, opening/closing hours, and more.
A GMB audit aims to ensure all the necessary business details are present and optimized. For instance, the business address, and phone number/s should be accurate and consistent with information in other areas (i.e., the website). Variations in the address or phone numbers can be misleading. A GMB audit will reveal such inconsistencies.
Details such as business URLs are crucial for directing searchers to your website. However, the links need to be able to track visitors originating from the GMB listing.
The business description is another critical part to check and amend. Your GMB listing's business description should be well thought off and have the right keywords to rank better.
Your listing should also have the right category/industry and business type to attract your target customers from Google searches. Generally, you will be prompted to include the industry/business type when setting up your GMB profile. However, if you didn't set up yours initially, the industry/business type could be the wrong one.
For local SEO (search engine optimization) benefits, it also helps to add business hours. Potential customers are definitely interested in knowing your operating hours, so adding that information will be crucial. Additionally, if your information could be similar to or better than your competitors it will give you an advantage.
Step 4: Customer reviews
A GMB audit also assesses the existence of customer reviews on a GMB listing. Customer reviews are critical online reputation tools to consider. To get good reviews, you must begin by offering great services/products. It also helps to actively ask your existing customers to rate your business and respond/comment on already posted reviews. Besides helping you rank better and boosting your online reputation, customer reviews on your GMB listing will improve your click-through rates (the rate at which potential customers click on your website to buy products/services). A GMB audit will show whether you've taken full advantage of customer reviews.
Step 5: Google post section
This is arguably the most overlooked GMB feature. Most businesses don't utilize this feature despite the obvious benefits. You can promote new products/services, highlight your latest offers or even offer business updates. Posts can also feature links to evaluate traffic from such posts.
While posts expire after a while, they are great for showing you have an active listing which counts when GMB listings are being ranked. An active post section also increases the odds of your listing appearing high on the search ranking pages. A GMB audit will reveal if you are making good use of this feature.
Step 6: Photo audit
Photos are another crucial part of a GMB listing and appear just above each listing. A cover photo and logo are required for a GMB listing to be verified, but it helps to include other photos as well. A GMB audit will reveal the exact kinds of photos you need to add i.e., interior/exterior photos of your business, a team photo, photos of products/services, etc.
While there may be user-submitted photos in your profile, it's better to take charge. An audit will reveal the photos present and those you need to add. What's more, regularly uploading photos is a way to create an activity that is tracked by the GMB dashboard.
Below is an example of a GMB listing for New York restaurants and corresponding photos:
Step 7: Additional audit tasks
A GMB audit will involve many other things. For instance, a Google business profile needs to be verified to enjoy limitless visibility. Newly treated GMB listings tend to have limited visibility unless they are verified.
An audit should confirm if you are verified. If not, it should specify an ideal verification method. Generally, you can verify your GMB profile by sending a postcard (to the listed address), through phone verification, email, or video.
What are the benefits of a GMB audit?
A GMB audit has one main benefit – it reveals what can be improved on a GMB profile. The information is then used to create a perfect profile that ranks highly against your competition. We believe Google my business audits inform efforts that:
Improve Local SEO by recommending many changes to business details, Google post sections, etc., that have an effect on SEO.
Improve website click-through rates (since listings have links that local searchers are known to click).
Improve reputation management. GMB audits recommend customer review strategies that boost a business's reputation.
Ensure updated information. An audit will inform constant efforts like updating business information, business offers, physical location, etc., that build trust.
Improve Google My Business ranking
Google My Business, SEO
A GMB audit will help your company's SEO efforts by allowing Google to understand your business more. Most fields on a GMB listing let your prospective customers, as well as Google, understand your business. The location of your business, as well as the niche/industry, reputation (via customer reviews), and other elements mentioned above, all have a direct or indirect effect on SEO.
The business description section of GMB listings offers opportunities for inserting relevant keywords. Location information also boosts local SEO. Google considers search location information when ranking GMB profiles on SERPS. Customer reviews are also a trust signal which has an effect on Google's ranking.
Is there a GMB audit tool?
Yes. There are GMB audit tools out there that automatically check all the above elements. They will produce an audit score and audit report on the current status of your GMB profile and where you need to improve. While GMB audit tools are helpful, they only let you know about common issues. You have to make the changes yourself to the primary categories and additional categories.
What's more, most SEO tools won't do competition analysis. Your GMB profile is also a small part of SEO, prompting the need for expert help.
The biggest takeaway from this guide should be that, if you are a business owner, having a GMB profile should be at the top of your priorities. Without one, you'll be missing out on thousands of potential customers locally (within your city) that are searching for products/services just like yours. However, you now know that simply having a profile isn't enough: it needs to be set up properly. That's where GMB audits come in.
An audit will reveal the element of a GMB profile that should change to boost local SEO. Audits reveal if a GMB profile exists, if Google business profiles are properly filled with the target keyword/s, if the profile has accurate information, if a GMB profile is verified, and if there are photos and other elements like 5-star reviews that boost SEO directly or indirectly. While audits can be conducted automatically, you need to make the changes yourself to all the above elements of your GMB profile and other aspects of SEO.
Because we know firsthand the impact of a thorough GMB audit, we encourage you to perform one yourself! Put in the time it requires and help your business reach its full online potential. However, there is a lot that goes into running your own business, and time might be of the essence for you right now. f this is your case, allow us to give you a hand.
We happen to be digital marketing experts with vast knowledge and expertise in crafting high-ranking GMB profiles. We understand what it takes, including creating GMB profiles that adhere to the recommended guidelines. Including prohibited content in your profile, as well as information that inaccurately represents your business can have your profile suspended, so we have firsthand knowledge of every rule and penalty as well as every requirement to create a solid GMG listing.
We can help if you need a full-stack digital agency with Google business profile audit services as part of our SEO packages, on top of a wide list of digital services. Contact us and claim your FREE 30-minute consultation, in which we can discuss everything from what you are expecting from your GMB profile, if a GMD audit is right for you, different optimization and SEO strategies, and much more.
Frequently Asked Questions 
How do I audit my business on Google? 
A GMB audit is an independent assessment of a Google My Business listing to see if it needs improvement with the purpose of optimizing a GMB listing to make it rank better on search results. To that end, you should analyze all the elements of your GMB listing to see what can be improved or optimized. We recommend: checking if you have a GMB listing, if you don't have one then create it. You can get ideas from identifying and auditing your competitors. Check your business details to make sure they are accurate. Add customer reviews to your listing. Use your post section to highlight your new information, such as products, services, offers, business updates, etc., this will show your listing is active. Ensure you are using the best photos possible, and more.
Why is optimizing your GMB important?
Optimizing your GMB brings a lot of benefits you don't want to miss. For starters, it is the best way to increase your online visibility and make sure you are reaching your target audience, which is another way of saying you'll increase the exposure you are getting from local search results. By reaching your audience you will also have the necessary tools to optimize your content that understands your user intent, which will have a very positive impact on your overall ranking on Google. When your ranking starts to improve make sure to protect it from fake reviews or spam, they will not only hurt your newly increased ranking but also will make you vulnerable to penalties from Google or you could even get some content removed. Lastly, we recommend you analyze in detail the report of your business's GMB performance to know exactly the progress you have made, we guarantee you'll see a significant improvement.
References
1) Kinsta: https://kinsta.com/search-engine-market-share/#:~:text=Google%20dominates%20the%20search%20engine,91.88%25%20as%20of%20June%202022.
2) Google Business Profile Help: https://support.google.com/business/answer/3038177?hl=en